Carrowmore is found in a unique piece of geography, the Cuil Irra (Coolrea) peninsula, a triangle of land bounded by water on three sides. Ballisodare Bay lies to the south, the Atlantic ocean to the west and Sligo Bay to the north. Lough Gill is to the east beyond Carns Hill, connected to the sea by the Shelly river which is only 5 km long, flowing from Lough Gill through Sligo Town and into the sea.
This must have seemed an excellent location for a site of significance. Only 4 km to the west is the impressive Knocknarea mountain with its cairn at the top. And also 4km to the east is Cairns Hill. To the south there are also more neolithic remains to the south next to the Ox Mountains.
Thirty monuments remain at Carrowmore today, the most perfect being Number 7. Antiquarian George Petrie noted 65 monuments during his visit for the Ordinance Survey in 1837, but today the number is thought to be considerably lower at a probable maximum of forty circles. The sites were badly damaged in the early years of the nineteenth century by land clearance and quarrying.
Information from DNA suggests that the monuments were built and used by people who came by sea from France around 6,000 years ago. These voyagers brought the first cattle to Ireland, and existed by herding their cattle through the forested landscape. It seems that they also re-introduced the red deer to Ireland, the native species having become extinct after the ice age.
The type of monuments found at Carrowmore are boulder circles with central dolmens and sometimes basic passages. They are among the earliest megalithic of chambers built in Ireland; dates from carbon dated red deer antlers, show that the chambers were used between 5,800 and 5,000 years ago.
The stones used to construct the monuments are a type of glacial rock called gneiss, which comes from the nearby Ox Mountains. There are an average of 30 – 35 stones per circle, set side by side and placed standing upright.
Carrowmore 7, the Kissing Stone, consists of a circle of boulders about 11 meters in diameter, and has a dolmen at the centre.
Much of the rock is rich with veins of quartz, and was carried to the site by retreating glaciers during the ice age.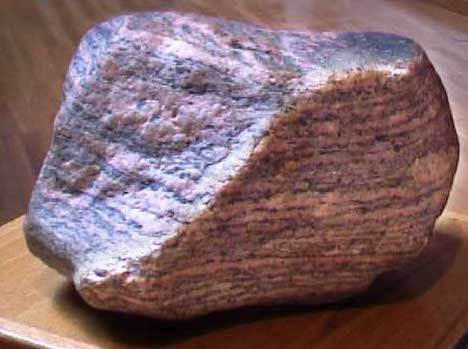 Gneiss Rock from Mayo
Reference
http://www.carrowkeel.com/sites/carrowmore/index.html
https://en.wikipedia.org/wiki/Carrowmore
http://www.megalithicireland.com/Carrowmore%20Complex.html
http://www.thestandingstone.ie/2009/08/carrowkeel-cairn-h-co-sligo.html