The North Wall Quay light house was sort of built in and around 1820. Except that the location where it sits did not exist. We are not even certain when the existing version of the lighthouse was built. Was it really in 1904? This article is also a minor celebration of the work of the great lighthouse hero Peter Goulding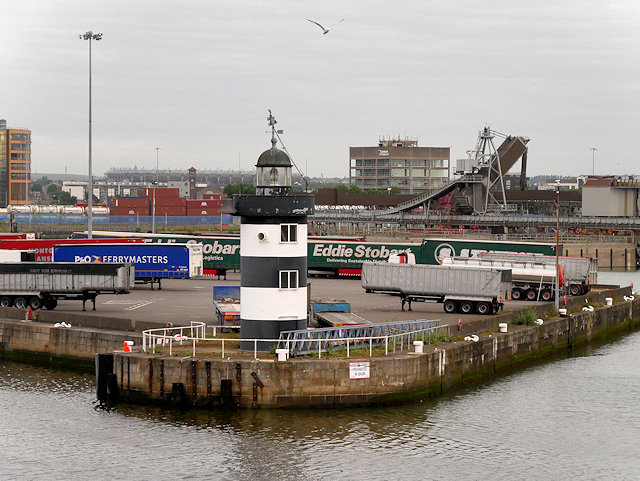 Were it not for Pete, I would have found it impossible to find any information about this Ligthouse. He shares his account of the North Quay lighthouse in his blog entry about the lost lighthouse. And yet Pete wasn't even allowed to take a photo of the light house!
Pete has a fantastic image from the Penny Journal who may show a predecessor to the existing lighthouse:
The lighthouse in this drawing is located where the Point Depot is now located. At this stage there was no other part of the North Quay which is missing what is all of what now is Dublin Port! This was before Bindon Blood Stoney and his friends came along. Pete says there is evidence that this Lighhouse was built in 1809. When the North Wall extension was finally finished in the twentieth century, the lighthouse was replaced by the current North Wall Quay black and white lighthouse.
Thanks to the inspiration of Stoney, a huge stretch of marshland was reclaimed, a Breakwater (with light) was built to facilitate the port's expansion and a quay was built, extending from the existing North Wall quay, and ultimately almost circling the new Alexandra Basin.
The current lighthouse only went up in either 1902, 1904 or 1908 – this is according to Pete! If he doesn't know then no one will! It is cast iron and was moved to the end of the pier extension in 1937, where it has remained.
A current plan in 2020 is to move the light house to another location according to the conservation strategy for the area.
References
http://irishlighthouses.blogspot.com/2014/04/north-wall-quay-dublin.html
http://www.epa.ie/licences/lic_eDMS/090151b2806abf8b.pdf
http://irishlighthouses.blogspot.com/2020/02/dublin-north-wall-light-lost-lighthouse.html